Activities Schedule For The Year 2019-2020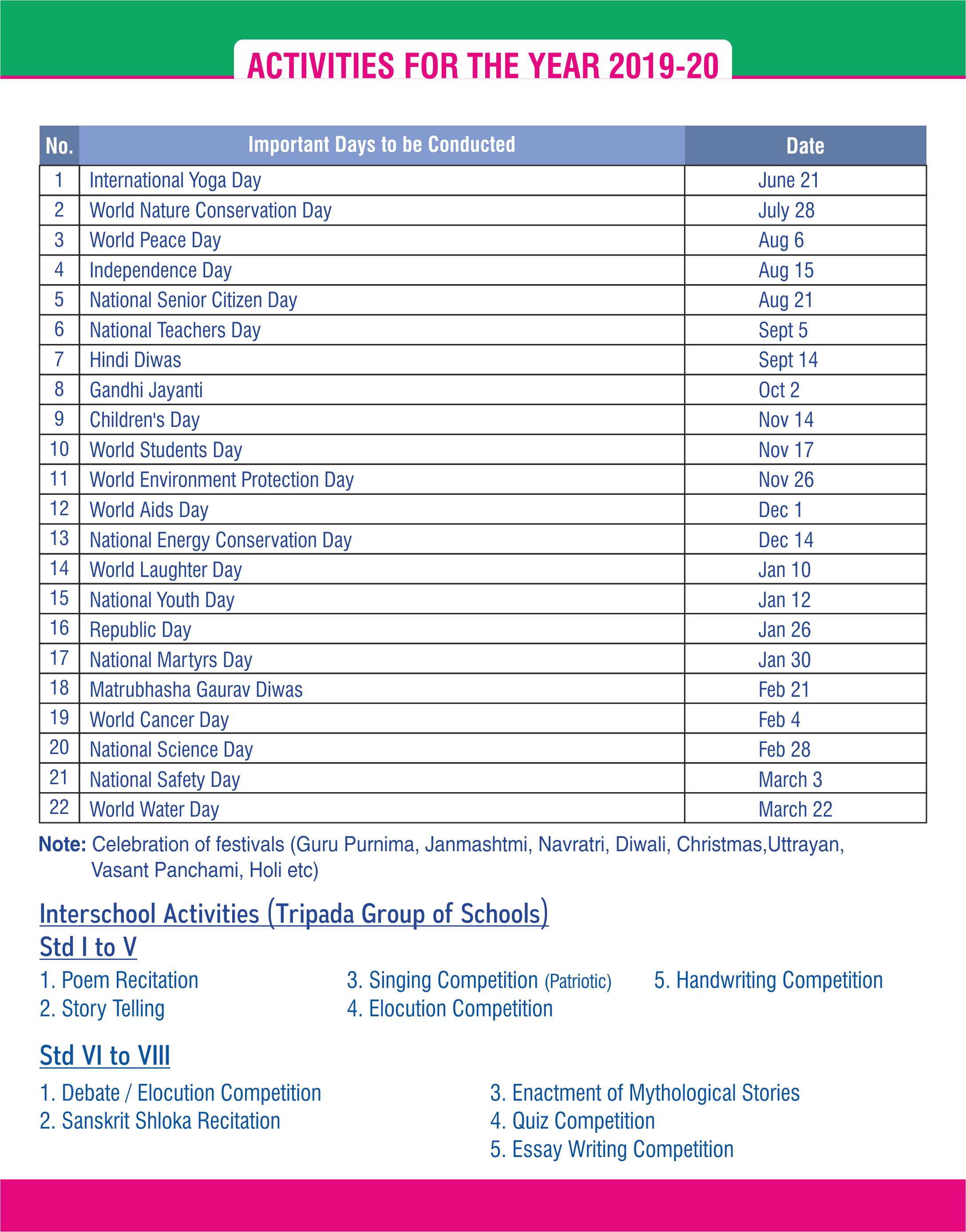 Community Services
Enforcing learning beyond classroom, the school also engage in community services. Such services build up sense of pride and responsibility and an opportunity for skill building and problem solving. Underlining this principle, association with YUVA UNSTOPPABLE boosts a service mentality among the learners of Tripada. The students contribute books, soaps and other essential things to the poor and needy children. Visits to hospitals and orphanage develop a sense of efficacy among the students. Contribution of old newspapers, Pasti ki masti, a Times of India initiative is also part of extended community services.
Sports
Sports enable the students to develop a strong team mind set whether its winning losing or training together. Small ,incremental achievements are helpful for the students in building personal confidence, giving the ability to perform more better. The students become aware of their own strength and weakness. Our students participate in sports like Kabaddi, Volley ball , Badminton, Kho Kho, Basket ball and all kinds of Athletics. We provide the platform to promote their potential in different sports organized by KHEL MAHAKUMBH at the state and the national level. Sports provide a chance to unwind and take part in an activity that improve their fitness. Some of our students posed to be real attackers ,game changers leading off well , breaking expectations to be on the top with immense dedication.
Educational Trips
Social activities makes students behaviourally refined and morally straightforward by imbibing self-discipline, self-confidence, self-esteem, along with apt etiquette and essential life skills and inculcate inter-personal skills that foster mutual co-operation, respect for authority, loyalty towards family, friends and fellow citizens with a sense of responsibility that makes them sensitive towards the society and the environment. We at Tripada organize:
Rathyatra
Campus Maintenance / cleanliness drive
Adult Education
Go Green – Environment Programme
Field trips
Life Skills Training
Theatre in Education
"Imagination is more important than knowledge. Knowledge is limited. Imagination encircles the world." – Albert Einstein
Theatre in Education (TIE) is an ideal platform to teach the young learners seeking knowledge on Theatre Elements that is applied in daily life and school academics. Theatre in Education works under the banner of TUPPETS with Tripada Group of Schools. The sole of aim of TUPPETS is to enhance the academic level of students, and improvising their innate abilities. Dramatics is used as a toolbox wherein students learn through the body language, improvisation of acting skills, language and social interaction.
Chess :
School is a great place to introduce students to the game of chess. TRIPADA promotes and encourage students to play chess. The benefits of playing Chess are enormous as it helps to reinforce mathematic concepts, strategic thinking, planning and logic. It helps to improve creativity and memory.
Music :
Music is an extremely important subject for all children to learn and can lead to better brain development, increases in human connection, and even stress relief. Music teaches many valuable lessons which students can't learn in a classroom. Music builds imagination and intellectual interests, improves self confidence, expands childs' vocabulary and they learns a variety of cultures and team work easily.
Art & Craft :
Children loves Arts & Crafts activities. It not only improves child's cognitive, physical, and social development but also increases fine motor skills, improvement of hand-eye coordination. Appreciate art and culture, Enhances self-expression, Boosts confidence, Sharpens skills of decision making
Mathematics Club :
Mathematics is an expression of the human mind which reflects the active will, the contemplative reason and the desire of an aesthetic perfection. Its basic elements are logic, analysis, construction, intuition, generality and individuality.
In order enhance mathematical knowledge of Students, Tripada Singapore Internationalé School is taking 2 class per week as Math's club Activities. During activities period various activities were organized in school for different classes. For students of Class 1 and 2 they have to recite tables from 1 to 10 with explanation. Students from class 3 to 5 were shown video based on explanation of using technique for easy calculation of math's. For students of grade 6 to 8 worksheet was kept which can enrich the academics.
The sole purpose for Math's club is to inculcate math's knowledge with an understanding. Also to make Math's as a concept rather than understanding it as difficult subject. This initiative is take by Tripada Singapore Internationalé School hoping to fulfill its objectives. We are very fortunate that our students are participating very enthusiastically and are always ready to learn innovative things which encourage us to plan new activities for them.
Science Club :
We at Tripada Singapore Internationalé School not only focus on the main academic part of the child but we also focus on developing various required skills related to that subject for the child in our school. Keeping this in mind we organize Science club. Various activities are arranged which helps them learning through experiment. Students always participate enthusiastically in Science Club Activities sessions.