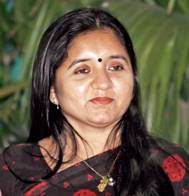 Dr. Jyoti A. Bhatt
Principal
We know that each child has special talents and intelligence and unique method of learning. As teachers and parents, it is our responsibility to explore them in order to help the child discover his or her unique and special skills. Process of learning is not restricted within the classroom and we at Tripada, strive to bring the outside world in the classroom and classroom world on the school playground. This prepares them to work independently and as part of a team and that inspires them to be fearless in life. This in turn empowers them to innovate and grow as responsible citizens and good human beings.
We create an atmosphere of learning by practical teaching methods which are relevant and connected to life. We nurture creativity, observation skills; building confidence and self-esteem, inculcate values of tolerance and compassion; and appreciate diversity and internationalism.
At Tripada our facilitators are selected based on the requisite qualifications & boundless love for children. Our facilitators' objective is to help each child for his or her self-improvement. Here they create positive and productive atmosphere for children.By giving space to each teacher for experiment and bring her unique talent into the class, a spirit of collaboration is fostered. All in all, we take good care of our facilitators, so that they can take great care of your children.
A continuous, creative partnership amongst parents, facilitators and the school staff is the source of impressive strides made by the school in a short time. Parents' overwhelming trust has always been a great inspiration. Our school continues to define new benchmarks to make a difference in the lives of our children, and through them, to make the world a better place for everyone.
Team:
The core team of Tripada Singapore Internationalé (TSI) is constantly working towards the Academic Excellence and Accountability towards the education. To the team academic excellence is of highest priority. The TSI team believes that education is a shared responsibility where the student, the school and the parent work towards the common goal.
The team of facilitators with the guidance of the Academic Coordinator under the leadership of Principal provides strong pedagogical leadership delivering the experiential learning to learners. The various departments are directed to lead, manage and develop the highest possible standards of excellence in all its activities. The Academic and non-academic team works for demonstrating and walking on the vision, empowering others in order to deliver the agreed departmental strategy within the Faculty.
The academic team works on appropriate structure in academics, decision -making and communication with staff and students, promoting clarity of knowledge and concept of primary methods, refresh and develop new programs. The non-academic team constantly shares the equal responsibility by constantly ensuring the highest levels of quality, integrity and ethics the team creates and explores new opportunities to impart knowledge using the latest technological tools.
STAFF LIST 2019-2020
| | | | |
| --- | --- | --- | --- |
| Sr. No. | Name | QUALIFICATION | Designation |
| 1 | Dr. Jyoti A. Bhatt | M.Sc., Ph.D., B.Ed | Principal |
| 2 | Mr. Hitesh Parikh | B.SC., MBA, D EL. ED | TGT Computer |
| 3 | Ms. Ekta Chetnani | B.E, B.ed | TGT Maths |
| 4 | Ms. Nisha Singh | B.Com, M.Com, MBA, B.ed | PRT SST |
| 5 | Mr. Harsh Solanki | M.SC. BED | TGT Sci |
| 6 | Mr. Rajesh Luni | M.A. B.ED | TGT Eng |
| 7 | Mr. Vinod Chavda | MA, BED | TGT Guj, Hindi, Sanskrit |
| 8 | Ms. Mayuri Tanna | B.Sc, B.Ed | PRT |
| 9 | Mr. Ajeet Prasad | B.Sc, B.Ed, MA | PRT Maths |
| 10 | Ms. Amandeep Kaur | M.Com, B.ed | PRT EVS |
| 11 | Ms. Aparna Chaoudhary | B.C.A., B.Ed | PRT Computer |
| 12 | Ms. Manisha Bhavsar | M.Com, M.Ed | PRT |
| 13 | Ms. Nidhi Aggrawal | M.Sc. M.ed | PRT Sci/Maths |
| 14 | Ms. Pooja kadakiya | B.com, B.ed | PRT Eng |
| 15 | Mr. Arya Krishna | ATD | ART TEACHER |
| 16 | Mr. Amit Kyada | VISHARAD | MUSIC TEACHER |
| 17 | Mr. Hardik Saxena | B.A, M.P.Ed | SPORTS EDUCATOR |
| 18 | Ms. Surbhi Shukla | B.Lib | LIBRARIAN |
| 19 | Mr. Vishal Shah | COUNSELOR | COUNSELOR |
| 20 | Ms. Devayani Chavda | SPECIAL EDUCATOR | SPECIAL EDUCATOR |