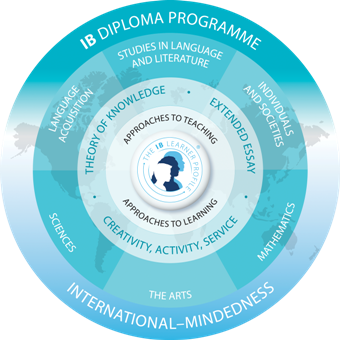 This programme aims to develop students who have excellent breadth and depth of knowledge – students who flourish physically, intellectually, emotionally and ethically for students in the age range of 16-19.
The DP provides an excellent pre-university course that leads to examinations externally set and assessed. It is a rigorous course of studies offering a broad and balanced curriculum and is recognized by universities in India and internationally as providing a strong foundation for studying in at degree level and often leads to students receiving college credits when they embark on their university studies. Students study six subjects, one from each of six groups, three of which are studied at Higher Level and Three at Standard Level. In addition, students follow a Theory of Knowledge course, submit an Extended Essay and complete the school's creativity, Action and Service (CAS) programme.
The Extended Essay is a 4,000 – word assignment which acquaints Diploma candidates with the kind of independent research and writing skills expected at degree level.


In Theory of Knowledge (TOK), students are stimulated to apply critical reflection on knowledge and experience.


Creativity, Action and Service Programme (CAS) helps students become responsible, compassionate citizens by working with marginalized groups in society (service), in addition to engaging students in sporting and creative activities.